SB Kendini temizleyen CO2 Vana
The Alfa Laval SB Self-Cleaning CO2 Valve is a self-regulating valve that controls the flow of carbon dioxide through tank top systems and other. Designed for use in the brewery, food, dairy and beverage industries, this combined gas escape/supply valve makes it easy to vent or pressurize the vessel. The valve can be integrated with a SCANDI BREW® tank top system.
Safe, reliable operation
The straightforward design of this gas management valve, featuring an internal polypropylene valve body and stainless steel spring, provides long-lasting operation. By minimizing the risk of overpressure or underpressure, the valve contributes to safe, reliable operation and maximum uptime.
Hygienic self-cleaning valve
Manufactured of AISI 316L stainless steel, the valve features a special drilled opening in the valve body, which effectively cleans all valve parts during Cleaning-in-Place (CIP). This minimizes the risk of contamination. Alfa Laval 3.1 traceability certification is also available upon request.
Product benefits
Safe, reliable operation

Cost-effective hygienic design

Straightforward installation

Easy to clean
Ürün kataloğu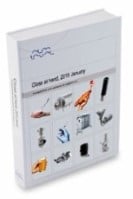 Güncel 'Close at hand' online versiyonu
Construction
The valve consists of an AISI 316L stainless steel valve housing, spring, plug and EPDM seal. The valve housing consists of two components held together by a threaded connection. Inside there is a valve body made of polypropylene and a stainless steel spring to keep the body in open position.
The valve is typically positioned as an integrated part of the gas/CIP pipe at the top plate. It can be mounted at an angle of 45° (maximum) to the ideal vertical position. It can also be integrated with a SCANDI BREW® tank top system.
Operating principle
The stainless steel spring forces the valve body open, enabling the full flow of gas to pass through the valve in both directions. To force the valve body into closed position, CIP fluid flows in a countercurrent direction against the spring. Due to the force of the liquid, the valve closes. A special drilled opening in the valve body ensures hygienic cleaning of all valve parts.